History & Milestones

Find out more about how Fly UK came into existence and how through innovative development and forward thinking, has grown to become one of the UK's best-known organisations in virtual aviation.
A New Virtual Airline
It all began in March 2004 when Thomsonfly Virtual closed. The CEO (Daniel Ellis) and Vice CEO (Chris Sutcliffe) decided that with the knowledge they had gained from the many months of successfully creating and running Thomsonfly Virtual - a VA based on the real world carrier - Britannia/Thomsonfly, to go their separate ways and start up new virtual airlines. As a result of the closure, Fly Trans Global (FTG) Virtual was setup by Daniel Ellis and Chris Sutcliffe began creating plans for a brand new UK virtual airline based at Leeds Bradford. By late March - Fly UK Virtual Airways was born.
Fly UK is Born
Originally Fly UK wasn't going to be Fly UK at all. It was in fact going to be bmi virtual. However, after some research, it was suggested a VA based on a real world airline would involve more hassle in terms of gaining the appropriate consent from the real world carrier to ensure we were not in breach of copyright. Virtual Star Alliance were having major problems, as the real world Star Alliance was threatening legal action against them for using the Star Alliance logos and names without permission. Legal battles with real airlines was something we were keen to avoid and the process of choosing an original new name began. After many hours of brain storming, the name 'Fly UK' was chosen, others which nearly made it to becoming the official name included: Jet UK, UK1 Airlines, flyJetSet, Air UK and UKfly.
The Early Days
A question many people ask about our past is why was Leeds Bradford chosen as the main base? There are a number of reasons, and it's debatable how valid these reasons are, but none the less it has proven to be very successful. Leeds has always been our most popular hub. Leeds Bradford was chosen to be the airline's main operational base firstly because it was Chris's local airport and secondly because LBA is an airport which Chris felt was not as active or as well known in the flight sim community as it should have been.
In April 2004 Fly UK officially commenced operations, launching with a free domain (flyuk.tk). Much of our advertising was done via the Microsoft Gaming Zone and FS2002/04.com. We have never looked backed, the VA has gone from strength to strength and has developed into what you see today..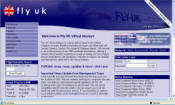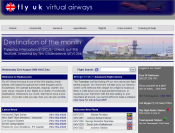 Fly UK Livery In Times Gone By
There have been quite a few different variations of the Fly UK livery since we started in 2004. Initially one of our major problems was finding a painter to repaint the entire fleet in the same livery. The first two liveries you see below never appeared on all our aircraft. The second livery only ever appeared on our B757-300 aircraft. The first livery to appear on all our aircraft was the 2005 livery. Since 2006 the Union Spirit livery has been in use but has been modified over the years with changes including the 'flick' from the front of the aircraft removed and billboard style titles.