About Fly UK Group
Facts & Figures
Our Mission is to provide a high quality virtual aviation experience for all flight simulator enthusiasts, striking the right balance between realism and flexibility within a friendly and helpful community. We will help pilots of all skill levels and experience to achieve their full potential as virtual airline pilots.
Key Facts
One of the UK's largest and most successful virtual airlines.
We have a fleet of over 538 aircraft comprising of 36 different types.
Domestic and International route network to 536 destinations.
Scheduled flight core business with additional UK services in Cargo, and Holiday (FLY2) flights.
Additional sudsidiary operations covering Scottish Highlands, Scandinavia, Oceania, Canada, Alaska and USA Codeshare.
Our primary mainstream and largest base is London Heathrow.
Our other bases are London Gatwick, London City, Birmingham, Manchester, Edinburgh and Southampton.
We also have a Tours division and a Flying Club.
Our International community is made up of virtual pilots from 51 different countries.
Awards & Innovation
Innovation has always been one of our aims and we're proud to have brought a number of firsts to the virtual aviation community.
First virtual airline to become a VATSIM ATO.
First virtual airline to offer a dedicated training academy with one2one online training sessions (using software such as gates.to), training history records and knowledge and input from real world pilots.
First virtual airline to provide a document with common ATC phrases in 10 different languages (International Pilot Phrase Book).
One of the first virtual airlines to offer downloads for the entire fleet as auto self installers.
Statistics
Airline Information
Radio Callsign:
Skyways
IATA Code:
FL
Established:
April 2004
ICAO Code:
UKV
Active Time:
19 years ago
Networks:
IVAO & VATSIM
Membership
Members:
951
Active:
731
Inactive:
192
On Leave:
28
New to Flight Sim or Virtual Airlines?
A virtual airline (VA) is an online organisation of flight simulator enthusiasts flying together in one community under one name. The idea is to make the flight simulator experience more realistic and enjoyable.
Flight Simulation Software
There are a number of PC based flight simulation programs available which can be used with Fly UK. We recommend the current 64 bit standard, although 32 bit software can still be used. For members new to simulation its important to weigh up the options and determine which sim is best for you. Current software supported by Fly UK is:
Lockheed Martin Prepar3D - Popular with our members and in most cases our livery and freeware fleet downloads are fully compatible up to V3. V4 adds 64 bit support and is a much better all round product, some older freeware fleet models however are not compatible with V4.
X-Plane 11 - A popular new generation of simulator with superb visuals and flight dynamics. A growing volume of free scenery and pay ware add-on products. A bit more limited on aircraft choice but expanding over time.
Microsoft Flight Simulator 2020 - The eleventh major entry in the Microsoft Flight Simulator series, released in August 2020.
Microsoft Flight Simulator X (FSX) or FSX Steam edition - Older generation software but still going strong. Wide and comprehensive aircraft and scenery available from a well matured title.
Microsoft FS2004 and X-Plane 10 can still also be used but are not officially supported by Fly UK.
Does it cost anything?
To get started you will need to purchase the flight simulation software of your choice.
You'll also need to invest in a suitable joystick or flight control. It's a bit difficult to land a 737 using your keyboard!
After that, you can spend as little or as much as you like. There are many add-ons available to enhance your experience. Add-ons include aircraft, scenery, sounds and more!
There is no charge to join Fly UK or download any of our aircraft or liveries.
Why join a Virtual Airline?
It provides you with an opportunity to meet and fly with like-minded flight sim enthusiasts.
It gives you a new dimension and purpose to flying in flight simulator.
Being part of a virtual airline gives you the realistic feeling that you are operating that flight in a Fly UK aircraft for a reason.
You're operating a flight from an airlines timetable rather than just flying the flight because you feel like it, thereby increasing the realism of your virtual flying experience.
Fleet & Operations
Our operations are split into a number of subsidiary divisions - most are within our Airline Divisions plus we have Tours and the Flying Club. We operate a varied fleet of aircraft, from turboprops right up to the latest most technologically advanced jet airliners.
Our Fleet
Fly UK boasts a fleet of over 538 aircraft comprising of 36 different types.
These range from the rugged and dependable Cessna Grand Caravan right through to the most technologically advanced Boeing heavies available on the market today. We offer quality freeware downloads with auto installers for all our aircraft, as well as repaints for popular payware add-ons.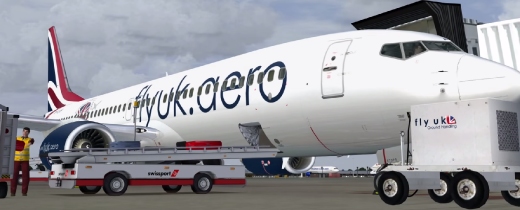 Our Rank Scheme
Ranks are based on total airline hours and determine which aircraft and flights you can fly. Everyone begins as a Class E First Officer meaning they can fly any flight which is operated by a Class E aircraft. As your total hours increase your rank level increases, thus increasing the choice of aircraft and flights available.
Class E
DH8D, DHC6, CRJ7, C208, SF34, RJ1H, E195, AT75, K100, AT76


Class E First Officer
Start Here
Class D
B738, A320, A319, MD88, B737, A20N, B38M, B738F


Class D First Officer
10 hours
Class C
B752, A321, A21N


Class C First Officer
30 hours
Class B
B788, A359, B789, B763, A333, A339


Class B First Officer
55 hours
Class A
B744F, B744, B77L, B77W, B77L, B748F, B748, B78X, B772

Class A Captain
100 hours

Class A First Officer
90 hours
ATP
All Fly UK Aircraft Types


ATP First Officer
300 hours
Why Choose Fly UK?
We have over 10 years experience in providing a leading virtual airline experience. We're here to stay and every year our membership and activity numbers continue to grow.
FREE Membership & No Entry Exam
Membership is completely FREE and there is no entrance exam, pilots of all skill levels are welcome.
New to Flight Sim?
With our basic training programme which covers 8 key areas, we'll have you flying in no time.
Quality Freeware Downloads
We search for the best freeware models, sounds and panels so you don't have to.
Payware Repaints
We offer repaints for popular payware add-ons such as PMDG, iFly, Captain Sim & Quality Wings.
24/7 FSD Server
Dedicated multiplayer server for Fly UK members often used for in-house events and training.
vRoute & VATSIM Pre-File
When booking your flight, you can export to vRoute and pre-file your flight plan on VATSIM.
IVAO MTL
See other Fly UK aircraft on IVAO. You'll find the majority of our aircraft included in the MTL.
Downloadable Flight Plans
Download flight plans for use with PMDG, Level-D, IVAP, FSINN, Squawk Box and FSX.
Screenshot Competition
Submit an entry and you'll be in with the chance of winning a UK2000 scenery package.
Dynamic Signatures
Personalised signature image which automatically updates each time you submit a PIREP.
Offers & Discounts
Access to excellent offers from major flight simulation retailers and publishers.
Join Us - Application Stage 1 of 3
Essential Reading
The Members Handbook and Operations Handbook contains everything you need to know about being a member of Fly UK. We strongly recommend you spend some time reading them before joining us.
Frequently Asked Questions