Fly UK's 2021 Christmas Season
Posted 01 Dec 2021
---
December is upon us once again, bringing a welcome festive spirit to the end of the year. As we run down towards the end of 2021, Fly UK has launched our traditional festive offerings for December. Here is a list of what pilots can expect throughout December.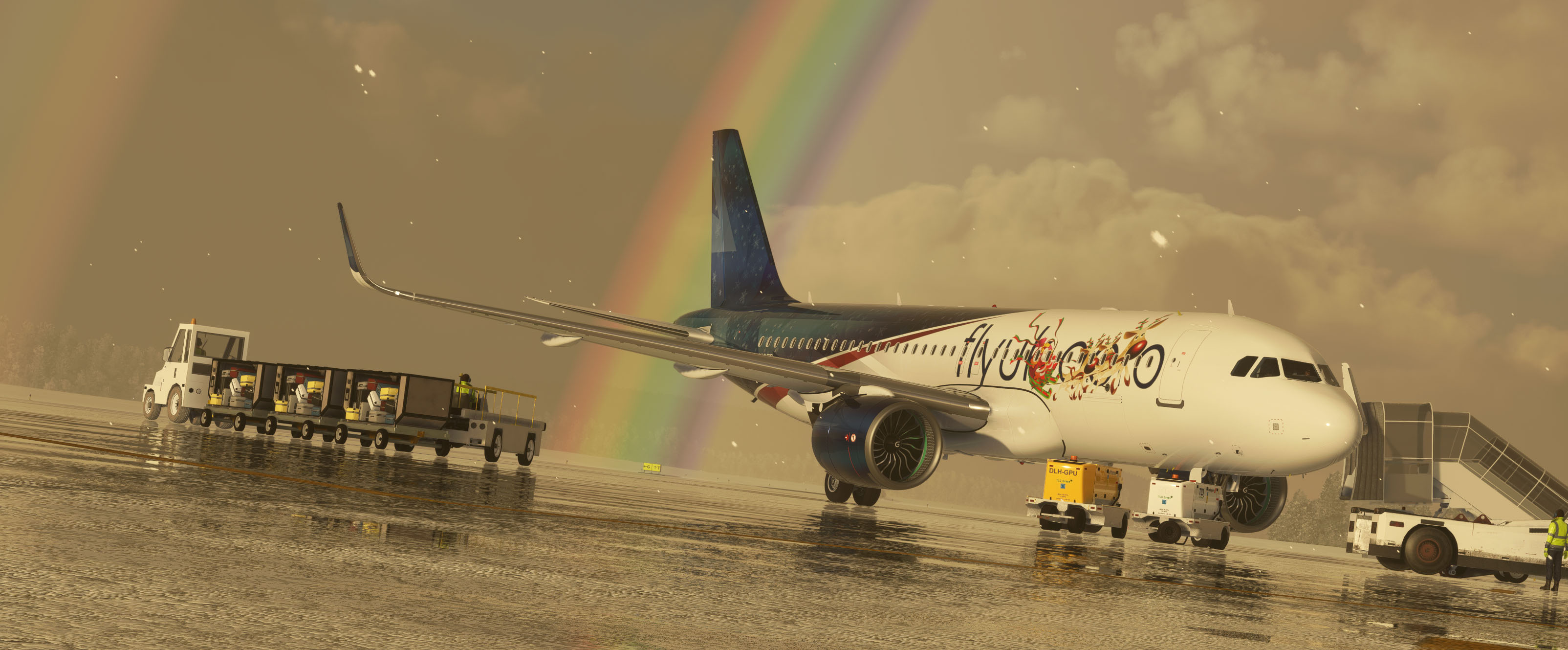 Lapland Charter Flights
As is tradition, Fly UK and Fly2 have now started our Christmas charter flights to Lapland. Flying to Rovaniemi (EFRO), Ivalo (EFIV), Oulu (EFOU) and Kittila (EFKT) from a selection of UK airports. These charter flights will be operating from the 1st of December to Christmas Eve on the 24th of December. Flight numbers are in the range FL9040-FL9079

Fly UK 2021 "Christmas Adventure" Tour
This years Christmas Tour is a Class E tour that visits a selection of destinations spelling C-H-R-I-S-T-M-A-S. As is traditional for our Christmas Tours, this tour is open to all ranks and all Fly UK airframes. More information about this tour can be found here.
Flying Club Christmas Tour
Fly UK's Flying Club have launched their Christmas 2021 Tour, taking pilots on a scenic tour from Shoreham to Rovaniemi. More information on this tour can be found here.

Christmas Markets Saturday Social – 11th December at 1430z
A dusk arrival at Salzburg awaits members in this Saturday Social flight on our FSD Server. Starting at London Heathrow at 1430z on the 11th of December, this short social flight ends at Salzburg just in time for sunset. This is an open event with no ATC planned. More information on this event can be found here.
Christmas Social to Lapland – 18th December at 1330z
Fly UK's annual Christmas social flight to Lapland is back! Departing Leeds Bradford at 13:30z, pilots are invited to enjoy a Saturday afternoon relaxing group flight to Rovaniemi on our FSD server. This is a social event with no ATC planned, so join us on Teamspeak for a fun group flight and an Xmas themed quiz! More information on this social flight can be found here.

December's Featured Destination – Kitilla
December's featured destination takes full advantage of the planned Lapland charters, taking pilots to the Finnish airport of Kittila. Both Fly UK Mainstream and Fly2 operate Lapland Charter flights to this popular holiday airport with our Boeing 737-800 and Airbus A320 'NEO' aircraft.

Rank Free Period – 20th December 2021 to the 2nd of January 2022
In order to fully celebrate the festive period, our usual rank restrictions will be lifted. On the 20th of December, the rank restrictions will be lifted which will allow pilots to fly any Fly UK aircraft on any Fly UK route, regardless of rank or aircraft type. The lift to the restrictions will end on the 2nd of January 2022 at 2359z.

FlyByWire A20N Christmas Special Livery
To celebrate this festive period, we have made a special Christmas themed livery for the standalone FlyByWire A20N. This livery is now available on the Fleet Centre to download.
---
Back
News Archive
View all our press releases past and present.
View Archive