Feb 5, 2022 | by UKV1685 - Matthew | Features
Innsbruck insight - A Flight Sim Favourite
A close look at one of the favourite destinations for Fly UK's and flight simmers in general - Innsbruck Austria.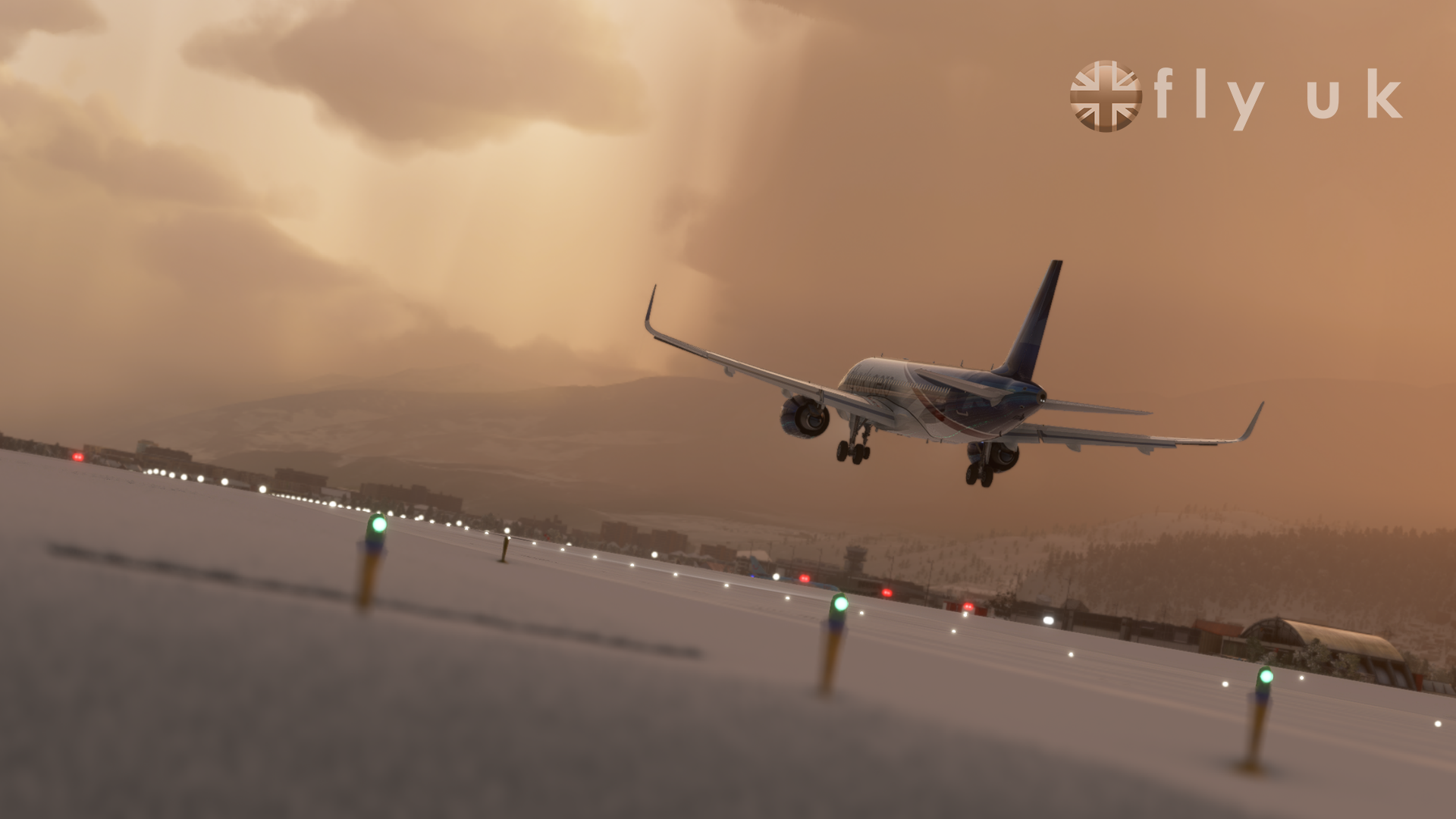 Innsbruck is many things, a winter mecca for snowsport lovers, a summer alpine paradise....but to anyone with any aviation blood in them it's a world renowned iconic destination and airport. We'll look into the history of LOWI both real and virtual and what makes it so special.

Overview
Innsbruck is Austria's 5th largest city and the capital of the Tyrol region. Located on the banks of the river Inn (the name means "bridge over the Inn ''), the city is surrounded by mountainous terrain and is a vital transit communications link between north and south europe via the Brenner Pass. Whilst Innsbrucks elevation is relatively normal for parts of central europe, it is bordered by High mountains of the so-called North Chain ( Karwendel Alps) which rise to over 7000 feet and the Stubai Alps to the south which rise to over 8000 feet.
Despite its city status, Innsbruck is compact enough to visit on foot and its residents like to say that the regional capital of Tirol is, in fact, nothing more than an oversized village. Culturally diverse with a thriving arts scene any summertime visitor can enjoy the Old Town with its medieval feel and famous landmarks such as the Golden Roof or enjoy the walking and biking possibilities in the surrounding landscape. In winter the city which has twice hosted the Winter Olympics turns into a winter sports haven. It's one of few places in the world where you can live in a city, hop on a funcialur from the center and be out on the slopes within 10 minutes.

Innsbruck Airport History
Flughafen Innsbruck opened in 1925 in what is now the Reichenau district of Innsbruck. Its first commercial route was to Munich and became part of the ÖLAG route network, later merged into Deutsche Lufthansa. A site that became well known for the emerging sport of Gliding, the location was limited and post war "Innsbruck-West" airport opened in 1948 on the site we know and love today.
The 1950's and 60's saw the founding of the Tyrolean airport operating company and growth with many European operators establishing flight operations including Austrian, Swissair, KLM and Eagle Airways. LOWI entered the jet age with new terminal buildings and the first jet landing of a British Eagle Airways BAC 1-11 in 1966.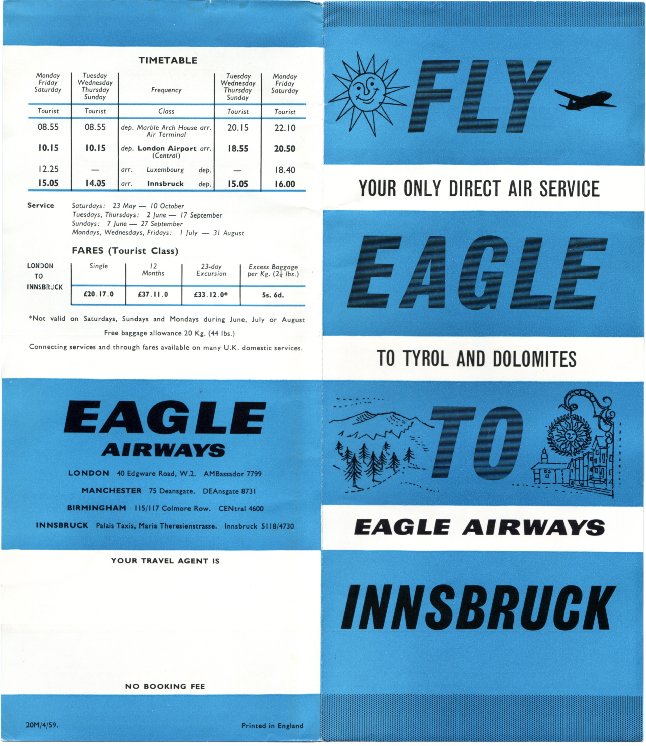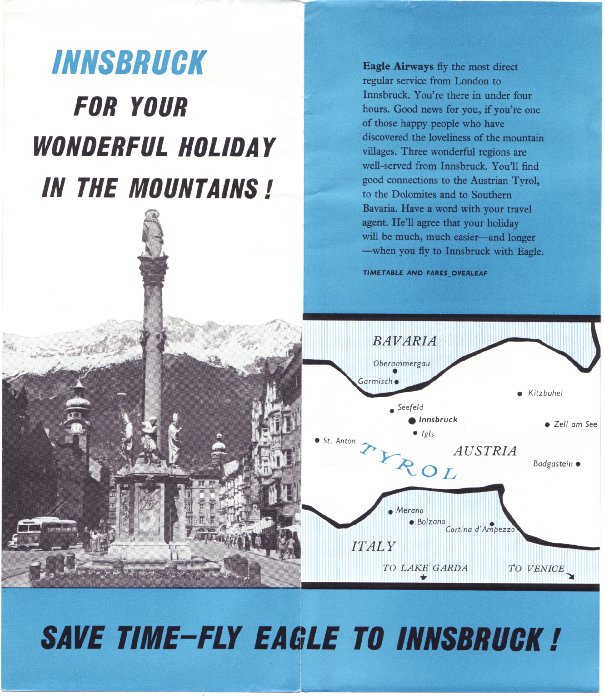 The 1970's saw significant growth and changes which we recognise today. Having hosted the Winter Olympics twice in 12 years, Innsbruck had worldwide appeal. The emergence of the charter flight holiday scene had arrived and was here to stay. As a result commision of the new flight procedures took place in 1976 and form the basis of the famed approach we have today.
The 80's and 90's had no drop in pace of development with initiation of Tyrolean airways Dash 7 and 8 operations, new control tower, arrival hall, Multi story parking garage, emergency care helicopter operations and refurbishment of the runway. LOWI was ready for the next millennium.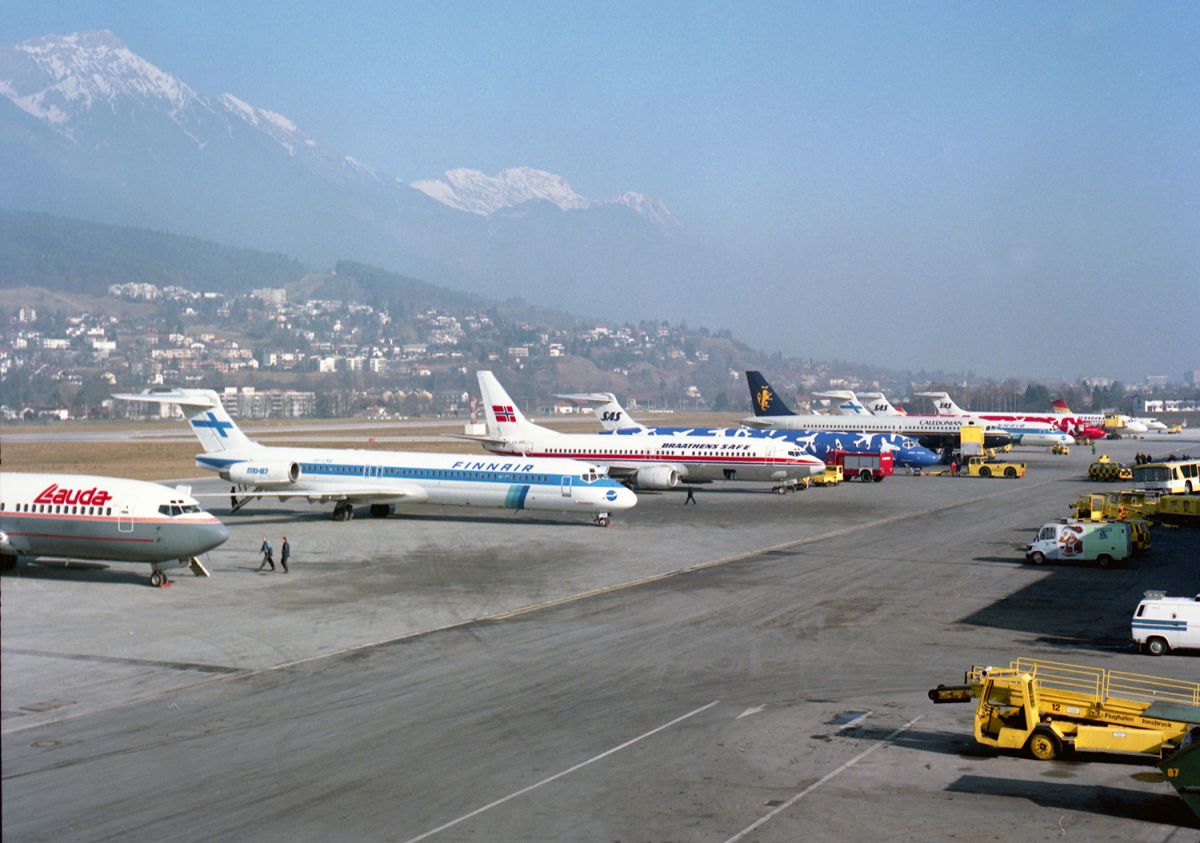 From 2000 onwards the low cost era arrived. Busier than ever during peak winter season German and UK operators dominated with HLX, TUIfly and an upstart called EasyJet linking more routes to the region. Austrian Airlines started to tap into the Russian market. New departure hall, check in area and restaurants appeared to serve the growing numbers.
Today the airport continues to grow, although affected by the Covid pandemic as much as the rest of the aviation industry, the airport has continued to prepare for its future and embarked on its largest construction project to date with a full runway renovation which would see electrical installations modernized, and the runway lighting would be converted to energy-saving LED technology. Renovation of the runway was urgently needed and future investment as the runway substructure dates back to the 1950s/60s. Thin layers of asphalt were applied every 10 to 15 years, but these were now in poor condition, necessitating a thorough renovation. Innsbruck Airport was the first to adopt a complete cloud-based common use solution allowing the airport to scale capacity up and down depending on demand providing the flexibility at check-in required based on traffic at any given time.
Looking to the future, Innsbruck commissioned a design competition in 2017 to replace the current passenger terminal which originates to 1964.
So what makes LOWI so iconic for the aviation lover?
Aside from the history Innsbruck airport is unique to the Avgeek, the casual traveler also cannot escape the unique experience of flying into Innsbruck with mountains on either side. From the window seat or cockpit (if you're really fortunate) this is the most dramatic approach to any airport in Europe. Descent through a deep mountain valley gives an amazing view for anyone..... you have to be mad to pick an aisle seat coming here!
Whilst other airports exist in mountainous terrain, very few see the high seasonal traffic volumes at an airport with operations being so tightly confined within the terrain on a short runway. The approach into Innsbruck is technically very difficult and special, with the airport is surrounded by Alpine peaks and the descent is steep. Combine that with Alpine winter weather, this is a captain only approach and requires specific training to be certified. Fortunately the flight simulator user can try this at any stage and at Fly UK, it's one of our most popular routes and event flights.
JustPlanes TV produces this stunning video which gives a superb insight to LOWI operations
Fly UK members can access a full guide on how to tackle Innsbruck via our training/development team guide which can be read here
The jewel in the crown is the famed Runway 08 Circle-to-land, here you get up close and personal with the terrain and a tight 180 degree turn in the valley whilst descending to visual short final. This is one of the most difficult approaches in aviation and sim flying and we encourage all flight simmers to give it a go. If you are not sure or need help, pay a visit to Fly UK's Training and Development team or ask on our social platforms, we have many people willing to help and guide.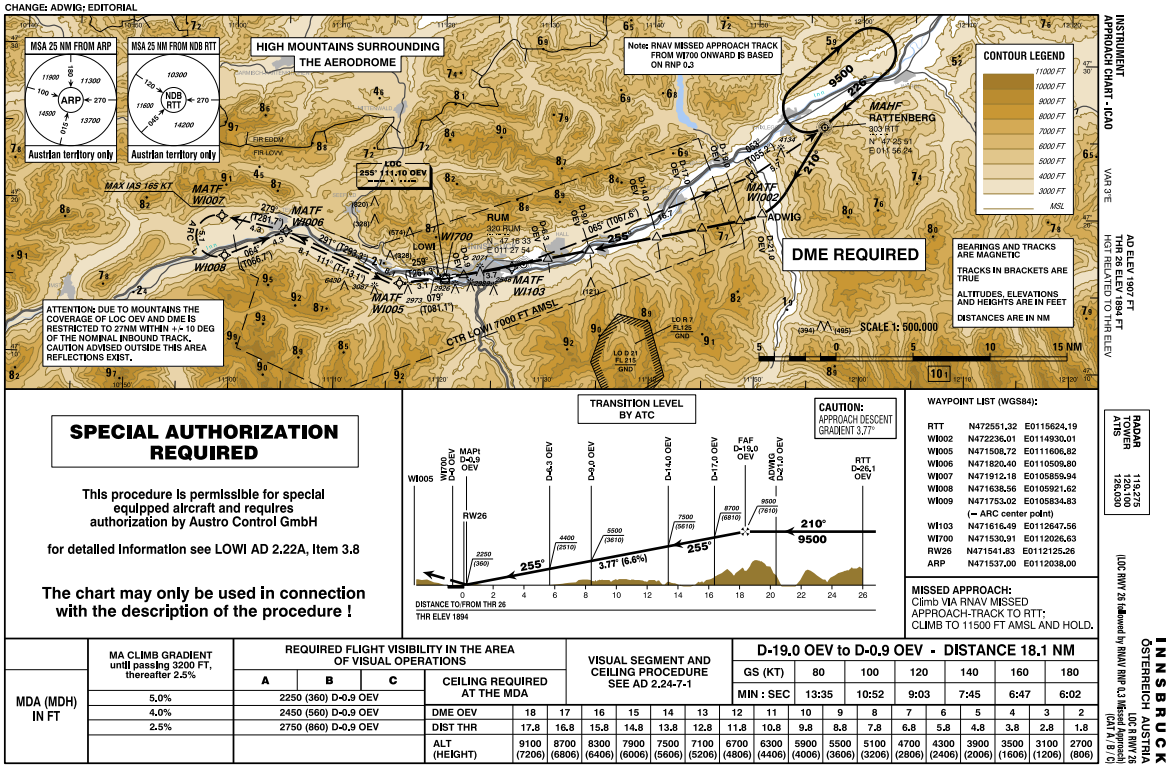 Innsbruck in Flight Simulator
As such an Iconic airport, it will come as no surprise that it features well in modern flight simulators. Freeware scenery enhancements first appeared in Flight Simulator 2002 and over the years more people have assisted to improve the sim experience for this airport and with the advent of MSFS 2020, LOWI is featured as one the the free to all handcrafted airports. We encourage simmers looking for freeware additions to search on Flightsim.to, Avsim, Flightsim.com and x-plane.org for free scenery enhancements.
Payware developers have also featured strong renditions of the airport, notably ORBX.
ORBX original announced FTX Innsbruck in August 2016 and at the time was one of the most innovative products available for FSX. Featuring not only a ultra detailed rendition of the airport it also included over 2500 square kilometers of topography coverage, vector roads/rail/powerlines and waterbodies, 200,000+ building and 800,000+ vegetation autogen placements. Five helipads and forward basses were included for helicopter operations and seasonal variations for the full areas.
NOTABLE FEATURES, POI & LANDMARKS
- Most major buildings in Innsbruck City Centre including University campus, hospitals, churches and hotels.
- 5x animated trains over 30km of routes, including local, ICE and freight (OBB) types.
- Both major train stations modelled - Innsbruck Central and Innsbruck Westbahnhof, including brand-new Adlers Hotel
- Olympic Park, Tirol Football Stadium and Ramada Olympic Park hotel
- Bergisel Olympic Ski Jump
- Innsbruck University Technical campus (massive complex next door to airport)
- Europa Bridge (one of the tallest in Europe)
- Many major churches including Basilika Wilten, Stift Wilten and others
- Most notable apartment towers
- 20+ custom modeled bridges, elevated freeways and overpasses
- Outlet shopping centre
- Standschützen Military Base
- Large sections of detailed powerlines with visible cables
- Zugspitze - the tallest mountain in Germany
- Many other apartments, schools, shopping centres and industrial complexes - over 160+ custom POI in total.
The product was a landmark release for ORBX and helped establish the strong brand that it has become today. The success of the product has seen it update and develop into almost all of the modern sim platforms.
Of course it's not just ORBX , Links for the best products for each platform can be found below.
MSFS 2020 -
FSX/Prepar3D -
X-Plane 11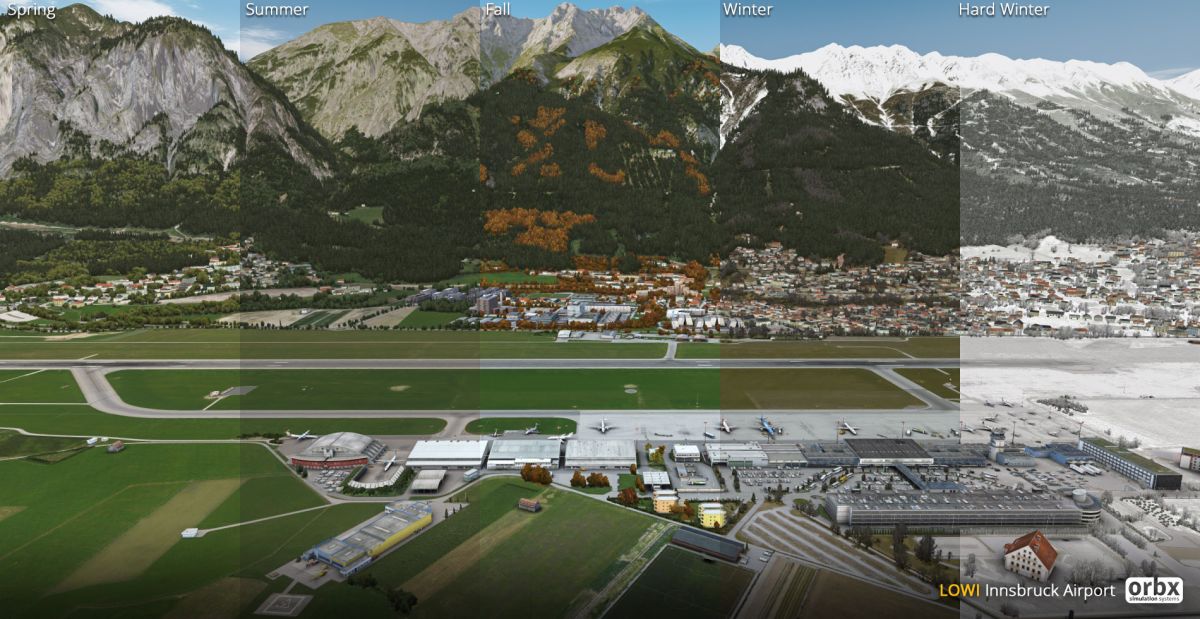 A real life visit to Innsbruck
To some aviation fans a visit to Innsbruck is a bucket list item. For me it was a city I've always wanted to visit again after an aborted camping road trip stopover during the Alps wettest summer season in history a number of years ago. Needing a bit of an escape from life, it was an ad-hoc last minute trip on tight budget in March 2020 which came just as Covid was hitting the new headlines in Europe..fast forward a few weeks and we were in lockdown so I feel fortunate to have done the trip when I did. Flying out to LOWI during winter season is somewhat limited for a two day trip, wanting to explore the city meant staying over but Saturday outbound flights were either out of budget or arrived too late. Next best way to fly to Munich and get the train to LOWI and I'm glad I did it, such a scenic journey albeit the LOWI approach and landing remains on the bucket list.
For anyone wanting to visit, the city is stunning and easily explored on foot if you don't mind walking. First point of call for me was the mountains as id only ever visited the Alps in summer before. A 10 minute walk from the central station is the Innsbrucker Nordketten Bahnen, a funicular railway and cable car combo which will get you to the "Top of Innsbruck '' in under 30 minutes. Walking through the city center encountering fully kitted Skiers and Snowboarders was certainly surreal. The view from the top is amazing, and the day was fortunately very clear giving views all along the Inn valley and down to the Brenner pass. A hot chocolate from the top and time spent wishing I could come back with some ability to ski in future and it was back down to explore the city. Walking along the river bank to my hotel, a low flying TUI 757 on approach was a superb sight Even on its busiest day, movements are not non stop due to capacity, but each one is certainly more appreciated.
The following day was a late morning departure so a brief walk around the airport perimeter and off to check in. However whilst the weather was glorious in Innsbruck, the infamous Storm Ciara was moving in back home affecting flights. Aircraft were arriving but not as many were flying out, the last departure schedule an hour before mine was a BA A320 which surreally I saw depart in person and then from the comfort of Innsbrucks departure lounge, watch live on Bigjet TV approach and go-around at Heathrow. Cancellations started to appear and concern around me started to mount. Families were being asked to find alternative travel...one of the risks of traveling "low cost". Fortunately my aircraft had arrived from Gatwick so was on the ground and I knew wouldn't be departing empty, I watched the crew disembark and then the inevitable cancel call came shortly after. So a bonus night in Innsbruck to be had. If you ever find yourself stuck in Innsbruck and need to eat on a budget, Frankys fast food restaurant is highly recommended... I may have dined rather too well on Schnitzel and Easyjet's food allowance ;)
Select images from the trip here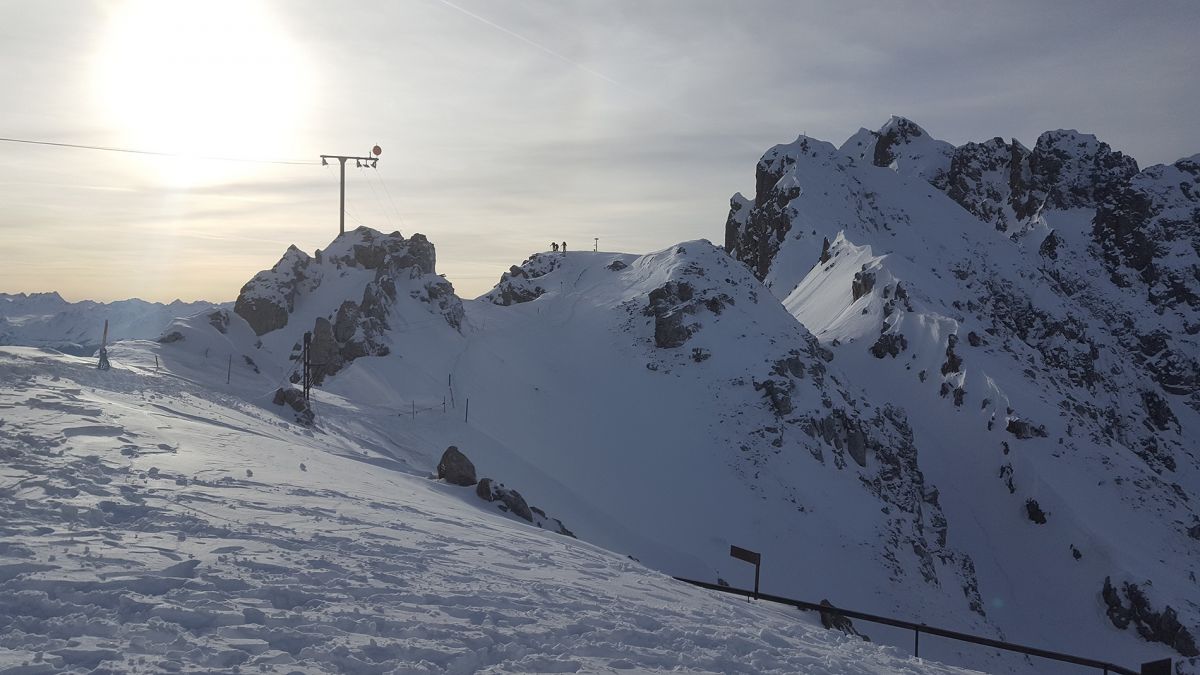 Sample Innsbruck for yourself
We hope you enjoyed this whistlestop overview of Innsbruck. Within the Fly UK community it is one of our most popular destinations, often visited by our events flights also. If you also choose to visit in the real world, you won't be disappointed. Innsbruck is a stunning place bot virtually and in real life.
Search our VA Flights to Innsbruck here
Hopefully we'll see you in the virtual skies somewhere over West Austria soon, watch out for that circle to land 08!
References
BritishEagle.net
story of Jakob. Ringler silo.tips
Ch Aviation
Airport World
Tyrol.com
Panorama images by Matt Lewis
---
Comments
This is a community-moderated forum.
All post are the individual views of the respective commenter and are not the expressed views of Fly UK Virtual Airways.
By posting your comments you agree to accept our Terms & Conditions. ---