Flying Club
The General Aviation Flying Club for Fly UK members. Take a break from airline flying and hop into a light plane or helicopter and either go solo or for more fun, join other members flying VFR online on multiplayer. You'll have a personal log-book if you wish to log your flights as you go. We hold informal VFR events, wherever FS will take us. Serious fixed-wing training is also available from one of our qualified PPL instructors.
Next Flying Club Event
Flying Club News
Message From Flying Club Team
If you have any comments, ideas or suggestions please do not hesitate to contact the Flying Club Team.
Jim Lowery - UKV2120 - Flying Club Manager - Email
Mark Dring - UKV1389 - Flying Club Manager - Email
Clinton Peake - UKV1430 - Flying Club Assistant
We look forward to flying with you soon!
Flying with the Flying Club - FAQ
GENERAL

How do I join the Flying Club?
Just file a Flying Club PIREP.

What aircraft can I fly?
Any SEP or light twin of under 2,500kg (5,500lbs) gross unladen weight. Wednesday evening flights and monthly event flights will be restricted to 1500kg (3300lbs) unless otherwise advised.  The ratings tours are restricted to these lower limits too - other tours can use the upper limits.

Can I fly helicopters?
Yes.

How do I file a Flying Club PIREP?
Go to Operations>Flying Club and use the 'log a flight' tab. However, Skytrack will record your flight and file your pirep. Choose 'Start Flying Club Flight' from the dropdown.
 
What type of flights can I file
The same rules as for mainstream flights apply i.e. single continuous flights starting and finishing at the gates/parking with the engines turned off. En-route touch and go's should not be recorded as separate flights. Skytrack will record T&G's  as a continuous flight until you park and switch off.

Do Flying Club PIREPs keep me active?
All FC PIREPs, over 1 hour duration, will keep your active status

Are Flying Club PIREPs included in my logbook backup?
Yes.

FLYING

Do I have to fly VFR?
No, but you'll enjoy it a lot more if you do.

Can I use the GPS/Navaids etc?
Yes. Anything that is available in your cockpit. But please don't just 'follow the purple line'.

Can I use the Autopilot?
Yes. But use it sparingly and only when it is appropriate.

Can I use external aids such as FS-Commander or Plan-G?
Yes, but, with the same notes as for flying with the GPS and the AP. For group flying these are recommended for situational awareness.

Where can I find the Flightplan/Routes etc?
There aren't any. It's part of the fun to work that out for yourself.
 
Monthly events and Wednesday evening flights may sometimes give a route plan.  Look for these in the Forums under 'Flying Club>Club News and Events or >Flight Information.
ONLINE

Which server do you use for online flights?
The Fly UK FSD server

What time are the Flying Club informal sessions?
Every Wednesday, from 7pm to 9pm UK local time.

I use FS2004. Can I still join?
Yes. FSInn supports both simulators.

Do Flying Club events have ATC control?
Sometimes!

When are the monthly events?
Generally on the third Sunday of each month from 1400 UK local time.

What are the Flying Club Teamspeak rooms for?
The Club Room is for general chit-chat. There may be times when an 'in-flight' radio room is available for when we're flying. Please DO NOT use this room unless you are actually participating in a session.  Popham Radio is for specific use when flying around Popham.  Popham Radio Service may be available on Sundays and is not full ATC but a ground/air advisory service.
What callsign should I use?
Anything suitable but do not use your Fly UK pilot ID. Most pilots use the callsign G-FC??, where the last two letters are your initials. We generally abbreviate this to just the initials.

What are VFR procedures flights?
These are held every 3 months on the Sunday event and are where we practice specific aspects of VFR flight. These events are more formal than the normal events and a certain level of competence is expected.


TECHNICAL

What software do I need for online flights?
You need the correct version of FSInn as well as Teamspeak (version 3).

I need help connecting to Flying Club online sessions. What should I do?
Book a Training Academy 'FSD software setup' session.

I can't get FSInn to connect to the server. What should I do?
Book a Training Academy 'FSD software setup' session.

I'm getting a ghost image of my plane.
In FSInn Control Panel, go to SET then find the networks menu. Select 'Peer-to-Peer' and untick the 'automatic peer-to-peer establishing' box.

I can't see everyone when we are on the ground.
In FSInn Control Panel, go to SET then find the multiplayer menu. Untick the 'Filter non-moving aircraft' box.

Other pilots do not display as the correct aircraft. What is wrong?
Nothing is wrong. FSInn will try to display other people's aircraft from your own local hangar. If you don't have that particular aircraft it will display the nearest guess. Please DO NOT spend time on the radio discussing what other people's planes look like!

Other pilot's planes look like their engines are not running/are showing with chocks on the taxiway. What is wrong?
Nothing is wrong. FSInn will sometimes do this and should sort itself out when the other aircraft starts moving

What time should I use in the simulator?
Unless otherwise specified, set your simulator time to Day in the simulator menu.

What weather should I use in the simulator?
The recommended method is to set your simulator weather to 'clear skies'. Once you connect to the server this should automatically change to the real world weather from the server. If this weather is inappropriate (i.e. below VMC minima) then you'll be asked to change to CAVOK on the FSInn control panel. On Teamspeak we call this CAV-GREEN.
Teamspeak
This is the software we use to communicate via voice. We encourage all members to come onto Teampseak when flying around on the Fly UK FSD server, there is a Flying Club channel on the Teamspeak server especially for this. You'll be able to meet and talk to other members who maybe flying around at the same time.
Online Flying
Fly UK FSD - We encourage all members to come and fly for the flying club online, this way you'll see others and have some traffic. Flying offline VFR with no traffic can be a bit boring. To connect to the FSD server you will need FSCoPilot and FSINN installed. Click the 'Training & Help' button above for a PDF guide on how to setup the software, alternatively you can book a course with the Training Academy.
IVAO & VATSIM - You can also fly online on IVAO/VATSIM. When doing so, you will need to use your aircraft registration as your callsign, not your UKV pilot ID for a VFR flight.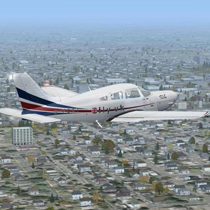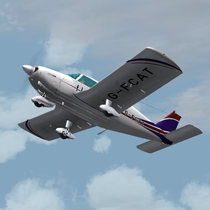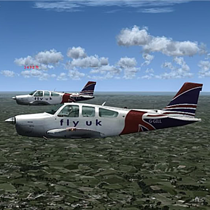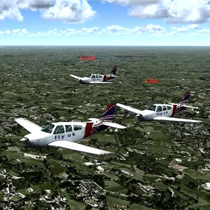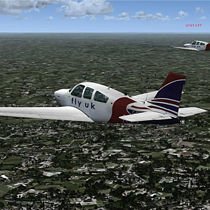 Sherburn Aero Club
Real World Flying - Sherburn Aero Club
From virtual world to real world, make your flying dream a reality. Sherburn Aero Club is a real world airfield in Yorkshire. It is the largest flying club in the North of England, with over 700 members and a continuous throughput of students.
Fly UK work closely with Sherburn Aero Club who hold an annual flight simulator show and have a flight simulator user group based at the aero club which meets every month. We also have members from the aero club who fly with us virtually, online at the Fly UK flying club!
Our involvement with the aero club provides you with a great opportunity to realistically explore the options of gaining a private pilots licence (PPL). You can meet members of the aero club which include GA pilots, commercial pilots and other flight sim enthusiasts. If you have questions, want some advice, or are looking to take a trial flight then our friends at the aero club are will be more than happy to help, offer their advice and point you in the right direction.
Latest Flying Club Screenshots
My flyuk.aero
Who's Online?
| | | | | |
| --- | --- | --- | --- | --- |
| TeamSpeak: | | Pilots: | 2 | |
| SkyTrack: | | Pilots: | 9 | |
| Fly UK FSD: | | Pilots: | 0 | |
| VATSIM: | | Pilots: | 1 | |
| IVAO: | | Pilots: | 0 | |
Fly UK Today
Total Hours:62:19
Total PIREPs:47
New Members:1
Flight Search
Talk To Us
Online Flying
Support Fly UK
Stay Connected